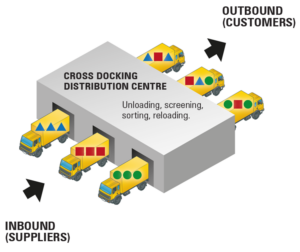 NedLine offers an efficient logistics solution, where incoming goods are shipped to the customer on the same day. Our dedicated team ensures that incoming goods are quickly and accurately unloaded and transported to the designated cross-dock area. In this space, deliveries are carefully sorted and assembled based on location numbers, enabling a streamlined picking process.
Once the goods are picked, they are prepared for shipment. Our goal is to deliver the goods to the customer within the same day or a maximum of 24 hours after receipt. We strive to provide a fast and reliable service, ensuring our customers receive their orders promptly and are satisfied.
With NedLine, incoming goods can be delivered to the customer within a short timeframe, guaranteeing efficient and timely delivery.