Definition of Fulfillment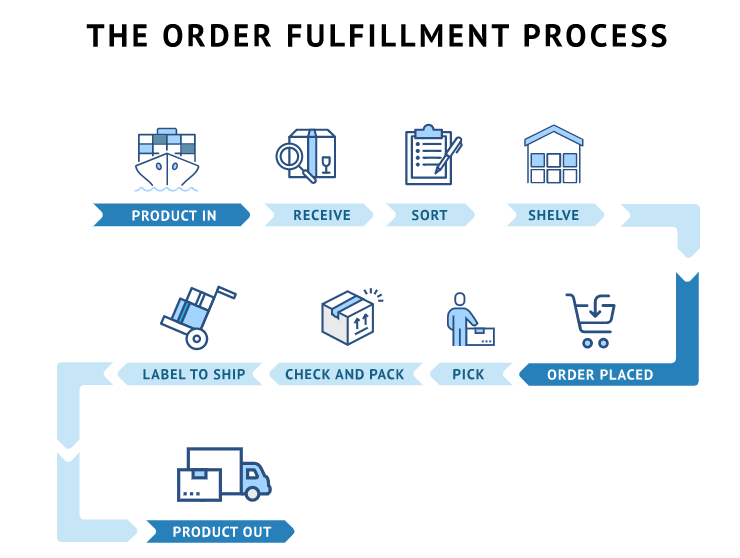 Fulfilment is the process of order handling, from the moment an order is received until the delivery moment at the customer. It encompasses all steps necessary to process an order, such as reception, storage, order processing, assembly/assembly, packing, shipping and reporting.
The Process of Fulfilment
To offer an efficient fulfilment service, it is important to link the customer's order system to the warehouse's WMS.
The following steps are then necessary:
Reception: Goods are received, counted, checked and recorded in the WMS.
Storage: Products are stored in the warehouse and registered in the WMS.
Order processing: When a new order is received, the correct product is picked and prepared for shipment.
Assembly/Assembly: Further production may be necessary for shipment.
Packing: The product is packed or packaged.
Shipping: The product is handed over to a shipping company or parcel service.
Reporting: The WMS provides reports for insight into inventory, shipments, costs, and more.
Thanks to these steps, the customer receives a complete product on time and there is always insight into the status of the order.
Benefits of Fulfilment
Freedom of delivery and storage More favorable shipping costs through volume advantage More efficient storage leads to lower costs More time for entrepreneurship by outsourcing logistics.
NedLine and Fulfilment
Professional fulfilment options Order handling from A to Z Reliable fulfilment partner
Contact us for more information.